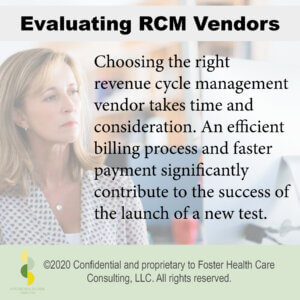 Becky Foster, Foster Health Care Consulting, provides insight when evaluating lab billing vendors. Partnering with an organization with unique expertise in revenue cycle management (RCM) and a specialization in clinical labs is a common and often necessary strategic choice. Ms. Foster reviewing the following criteria to choose a trusted vendor:
Review roles and responsibilities
Identify staffing considerations
Evaluate services
Understand the billing technology
Identify reporting needs
Compare pricing scenarios
Plan for the future
An efficient billing process and faster payment significantly contribute to the success of the launch of a new test. Selecting a vendor that understands and aligns with a lab's broader commercialization goals is critical to that end.
Download this complimentary paper to discover more.
About Becky Foster
Becky Foster has nearly 20 years of industry and consulting experience in managed care, health policy, and reimbursement for biotechnology manufacturers, molecular diagnostic labs, and digital health companies. She has worked across multiple therapeutic areas, drug classes, and treatment modalities for both launch and legacy products. Her experience includes marketing, account management, strategic planning, training, market analytics, and operations.
Becky received her undergraduate degree from Harvard and a master's in public health with a focus on health policy and administration from the University of California at Berkeley.
About TELCOR
To successfully offset the negative effect of declining reimbursements, it's critical to have access to all aspects of your laboratory billing. With our visionary outlook, TELCOR revenue cycle solutions are crafted to give complete control of your revenue cycle. For payer, patient and client billing, TELCOR solutions have the flexibility and precision needed for all of your billing requirements.