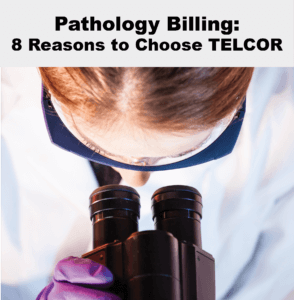 There are many options when choosing the right billing vendor for your practice. While we believe in our revenue cycle management software and our billing service for pathology offices of all types and sizes, we want you to know why hundreds of practices across the country choose TELCOR as their billing vendor.
Designed for pathology
More clean claims the first time
Access to your data
Flexible pricing and client billing
…and more!
Download this complimentary paper to discover more.
About TELCOR
TELCOR provides billing software and services for pathology practices to manage its entire revenue cycle. These solutions are built on the premise that every pathologist needs to get paid for the work they do in the most efficient manner. Our software and service solutions provide pathology practices unparalleled visibility to its billing and revenue cycle data allowing executives to identify trends and make sound business decisions. This visibility is key to increasing collections and minimizing operating costs thus positively impacting profitability. With multiple solutions, each using our software designed specifically for pathology, we have a solution for practices of any type or size.