Lincoln, Nebraska – November 10, 2021 – TELCOR Inc, the market leader of point of care (POC) middleware and revenue cycle management (RCM) software and service solutions is proud to announce the promotion of Stuart Zetterman, Vice President, Human Resources. Zetterman joined TELCOR in 2008.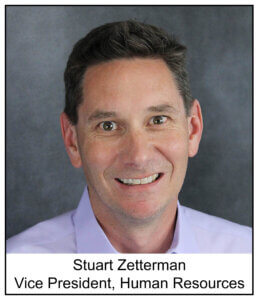 As the Vice President of Human Resources (HR), Zetterman provided leadership and oversight of the HR team overseeing the daily workflow of the HR and wellness program teams. He leads the team to manage recruiting, hiring, and retention while ensuring TELCOR's compliance with federal, state, and local employment laws and facilitate related training.
Since joining TELCOR in 2008, Zetterman has seen TELCOR grow from about 50 employees to almost 270 by the end of 2021. He has been instrumental in implementing many initiatives including a new applicant tracking solution, a new employee performance management solution, assisting with a new payroll and benefits solution, and a new document management solution to manage policies and procedures. Zetterman also ensures TELCOR employees have the most competitive benefits and services by annually reviewing market options.
"As TELCOR continues to grow and be a valued employer in Lincoln, Stuart ensures all HR and wellness activities are upheld with integrity," said Jim Terrano, President and CEO. "In the 14 years he lead the HR team, he has been extremely collaborative with TELCOR teams, regional services, and vendors across the country ensuring we are innovative in providing the quality benefits and services to all our employees."
Zetterman graduated from Nebraska Wesleyan University. He received his Society of Human Resources Senior Certified Professional (SHRM-SCP) certification in 2017 recognizing his ability to effectively perform HR duties and responsibilities from a strategic perspective.
For more information, contact Marketing or call 402-489-1207.
###
TELCOR is an industry leader in the laboratory revenue cycle management and point of care testing markets, providing unparalleled health care software products and services, and exceptional customer support. Our proven implementations are performed by clinically experienced, IT knowledgeable resources who understand each customer's unique environment.