Lincoln, NE – December 13, 2021 – As a way to support locally-owned businesses, TELCOR started catering meals or snacks to its employees in July 2020. Since then, more than 50 different restaurants or catering companies have provided breakfast, lunch, or a mid-day snack to its 280 employees.
Pre-pandemic, TELCOR catered a meal once a week. The catered meals were usually buffet style where employees congregated in the company's lunchroom, the Bistro. Getting employees through the line could take 20 minutes or longer.
In March 2020, all that changed when employees began working from home. Subsequently, Nebraska Governor Pete Ricketts proclaimed every Tuesday in April "Take-Out Tuesday" to support the industry taking one of the largest financial hits from the coronavirus and restrictions on large gatherings. As more employees were coming back to the office, it was decided TELCOR needed to do its part supporting local restaurants, too.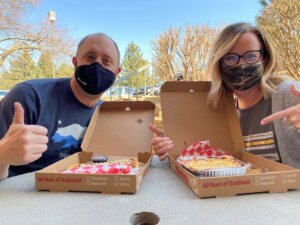 "When we first contacted local restaurants with the opportunity to cater meals, they were so appreciative of the business," said Karis Ahlberg, Vice President, Marketing. "We gave them several days to ensure supplies could be ordered and prep time could be planned. At TELCOR, employees loved being able to pre-order their food. They didn't have to stand in line because they always knew their packaged meal would be waiting for them. Having the meals divided between three floors, ensured there was never a crowd in any one location."
In July 2020 when a weekly catered meal was offered, there were about 65 employees in the office and an average of 22 people who opted for the "to go" option of coming to the building to get their lunch and then heading back to the home office. Now, an average of 120 meals are catered each week—most are in the office, but a few still come into the building to carry out their meal.
Individually packaging each meal can be challenging as the number of orders increase. "More owners are letting us know either food supplies, packaging supplies, or both may be limited," said Ahlberg. "Our employees are flexible as they understand the challenges facing so many industries today and they are always appreciative of the free lunch."
TELCOR will continue to offer this perk to its employees while coordinating breakfast, lunch, or snacks with locally owned restaurants and catering companies who are able to tackle the supply chain challenges.
For more information, contact Marketing.
###
TELCOR is an industry leader in the laboratory revenue cycle management and point of care testing markets, providing unparalleled health care software products and services, and exceptional customer support. Our proven implementations are performed by clinically experienced, IT knowledgeable resources who understand each customer's unique environment.