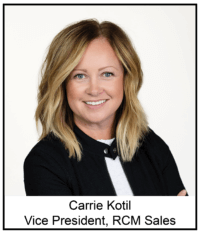 Lincoln, Nebraska – September 15, 2023 – TELCOR Inc, the market leader of point of care (POC) middleware and revenue cycle management (RCM) software and service solutions is proud to announce the promotion of Carrie Kotil, Vice President, RCM Sales. Kotil joined TELCOR in July 2015 with the Service team.
Kotil transitioned to RCM Sales in 2017 and has excelled in that role ever since. Her work ethic, energy, and strategic thinker has allowed her to succeed in her role. Her passion for customers is what really sets her apart.
"Carrie lives by the motto, 'if we take care of our customers, then we will be a successful company,'" said Jim Terrano, President and CEO. "Because of Carrie's experience, knowledge, and passion she is a true consultant when dealing with prospects and customers. Her focus on getting the customer to a better spot, whether that is through improved collections, more efficient use of RCM, puts Carrie in a position of a customer champion."
Kotil most recently graduated from Bellevue University with a Bachelor of Science in Health/Health Care Administration/Management. She is an active leader in youth sports and community activities.
For more information, contact Marketing or call 402-489-1207.
###
TELCOR is an industry leader in the laboratory revenue cycle management and point of care testing markets, providing unparalleled health care software products and services, and exceptional customer support. Our proven implementations are performed by clinically experienced, IT knowledgeable resources who understand each customer's unique environment.